Representing businesses and individuals throughout Southside Virginia
Representing businesses and individuals throughout Southside Virginia
Representing businesses and individuals throughout Southside Virginia
Representing businesses and individuals throughout Southside Virginia
Representing businesses and individuals throughout Southside Virginia
The attorneys at Elder, Watkins, & Friedman, P.C. are passionate about obtaining the best results possible for each client. Meeting those needs requires taking the time to listen and understand fully each client's individual situation. Just as the client's needs are one of a kind, the solutions are as well. It requires insight and creativity to match the solution to the situation, which is exactly the Elder, Watkins, & Friedman approach.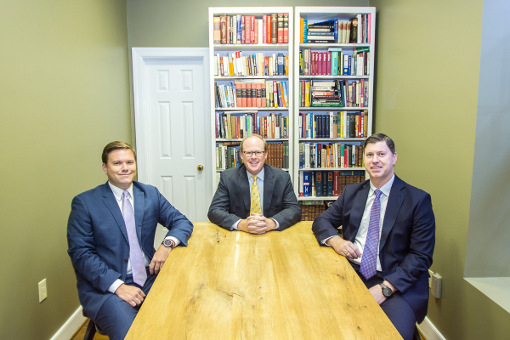 Elder, Watkins, & Friedman, P.C. was established in December of 2016 when Gary Elder and David Watkins, both experienced attorneys in Southside Virginia, decided to form a partnership that could offer the type of personalized, efficient legal representation their clients sought. In January of 2018, the firm expanded by adding Matt Friedman, who had previously served as an Assistant Attorney General for the Commonwealth of Virginia. In August of 2019, the firm again grew with the addition of Carter Allen. Elder, Watkins, & Friedman now has four attorneys practicing in two locations in Southside Virginia.
Residential Closings
Commercial Closings
Property Litigation (Including Easements, Boundary Line Disputes, etc.)
Zoning Issues
Traffic Defense
Defense of all misdemeanor and felony offenses
Formation of LLCs
Formation of Stock Corporations
Formation of 501(c)(3) organizations
Service as general counsel to local businesses
Preparation of Wills
Powers of Attorney
Advance Medical Directives
Estate administration and litigation
Automobile Accidents
Workplace Related Injuries
Divorce
Property Settlement Agreements
Child Custody
Adoption
Elder, Watkins, & Friedman has experience in a variety of different legal areas.
Matt Friedman grew up in Williamsburg, Virginia. He graduated from Hampden-Sydney College in 2004 with a degree in Psychology, and he then graduated from the Charleston School of Law in Charleston, South Carolina in 2007. Matt joined the firm in 2018, and he primarily...
read more